Details

Category: Mobility

The second mobility of the Erasmus +, European Healthy Lifestyle project, took place during a week, from 27th May - 31st June 2019, in Italy, at INSTITUTO COMPRESIVO STATALE GIUSEPPE DI VITTORIO a school in Palermo, located on the north coast of Sicily, in Sperone.
The Romanian team for the mobility consisted of 8 students and 3 teachers.
The topics prepared for the second mobility were the following:
Orthorexia, eating disorder, symptoms, cause, treatment, PowerPoint presentation
A video clip : about the danger of fast food commercials and the creation of the advertisement for healthy food – Fast food versus healthy food.
The activities were carried out at Giuseppe Di Vittorio school, but we had the opportunity to see many tourist attractions, visiting the surroundings of Palermo, enjoying the view of the statues artwork, admired historical buildings, Massimo Theatre, Pretoria Square also called the Square of Shame because of the nude statues, the Palace of the Eagles which is also the City Hall, and the impressive Cathedral, a true architectural masterpiece. During our stroll, we walk down the narrow alleys which linked many streets and felt the rhythm of the city hearing the sounds coming from the boutiques, bars and trattorias.
Travelling to Agrigento region we visited the Museum and the Valley of the Temples, the important landmarks which are part of the UNESCO World Heritage, the Garden of Kolymbetra, the Orleans Palace and the Royal Palace. We participated in activities involving navigation of sailing boats, a cruise from the port of Palermo on the Mediterranean Sea.
Details

Category: Mobility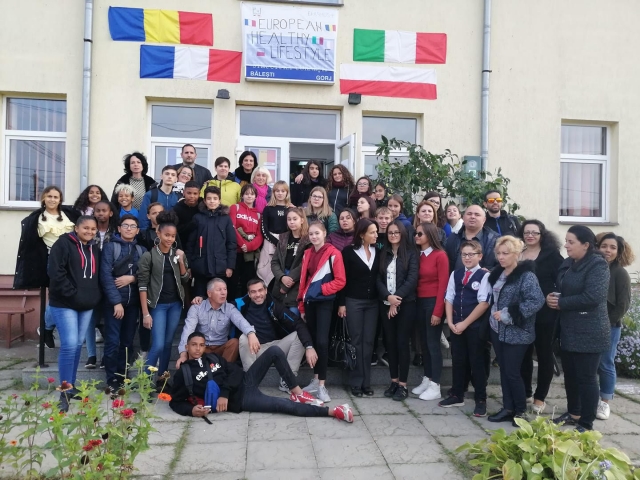 Romania mobility report
Erasmus +, project "European Healthy Lifestyle"
During 7th until 11th October 2019, Antonie Mogos Gymnasium School located in commune Balesti, Gorj county,hosted the partners from the multinational project Erasmus +, European Healthy Lifestyle, teachers and students from France, Reunion, Italy and Poland. The topics discussed were the following:
1.Interview Report was the first theme, in the form of short films, with English subtitles, regarding the farms visited by students during the period of preparation of the activities required within the project. Students and teachers from the countries participating in the project visited farms with local products that promote healthy eating. One week before, our students visited an agricultural farm specializing in corn cultivation and a vegetable farm. In the interview, our students told what they saw and learned about sowing, planting, cultivating and caring for corn and vegetables, in the field and in the greenhouse.
2. The Multinational Garden was the second theme which included a series of activities: the PowerPoint presentations of the different seeds which were brought by the project partners to be sown in the greenhouse situated on the school field in Cornesti village, designated for gardening activities. Dissemination activities were debated on written papers and discussions at school, and they were followed by practical activities.